Report: Coral almost as genetically complex as humans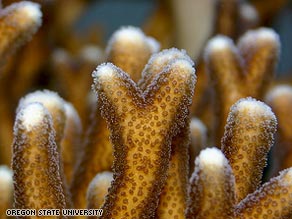 (CNN) –Advances in the study of coral in the last few years has led a group of scientists to conclude that corals almost rival humans in their genetic complexity and their relationship to algae is key to their survival.
"We've known for some time the general functioning of corals and the problems they are facing from climate change," said Virginia Weis, a professor of zoology at Oregon State University and an author of a report published in the journal Science.
"But until just recently, much less has been known about their fundamental biology, genome structure and internal communication. Only when we really understand how their physiology works will we know if they can adapt to climate changes, or ways that we might help."
The study found that corals have sophisticated systems of biological communication that are being stressed by global change. Disruptions to these communication systems, particularly between coral and the algae that live within their bodies are the underlying cause of the coral bleaching and collapse of coral reef ecosystems around the world, say the report's authors.