To a lot of people, heroes are guys with big muscles who carry guns. Think Rambo and his more recent movie and video game look-alikes. Heroes prove themselves in battle. But today I've just learned that one of my real-life heroes—Senator Frank Lautenberg of New Jersey—won't be running for reelection.
Perhaps I'm strange when it comes to heroes, but most of mine don't fit that cartoonish image. Some are just kids like Malala Yousafza, who took a bullet because she believes that girls deserve an education. Some gave their lives in the effort to call attention to ways people are harming our environment, like marine biologist Rachel Carson. Some are brave visitors to heretofore unexplored parts of our world, like Her Deepness, Sylvia Earle, who witnesses the fascinating, fragile beauty of life in the depths of the oceans. Some are like my mother Harriett, who became a military policewoman during World War II to safeguard the homefront while our family's men were fighting in Europe and the Pacific.What Senator Lautenberg has done for the oceans and the world's people makes him a hero, even though he's no Bruce Willis, Mel Gibson or The Rock. Frank is the real deal.
Men can be heroes too. Some of my heroes fought on the battlefield, like Mom's younger brother and my namesake, Elliott Albert. Tall and thin, he lied about his age to join the US Army at 16, earned his first Purple Heart as a member of the 4th Ranger Battalion, then joined the First Special Service Force (the Devils's Brigade) before earning the Bronze Star and his second Purple heart posthumously in the Anzio breakout of 1944. He was a hero to my family and the community where I grew up, someone I've admired and loved all my life, even though I never met him.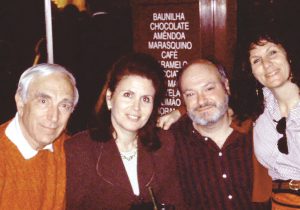 Senator Lautenberg became a hero to me when we met in 1996 in Lisbon, Portugal. He was one of 15 US Senators and House Members who participated in a wonderful Aspen Institute conference on national security and the environment. I had the honor of being chosen to speak to these elected officials on the role of fisheries and oceans in nations' security.
Senator Lautenberg asked some of most thoughtful questions. He also did all he could to make me feel like a friend, not just an expert to interact with in public, when people were watching him. Indeed, he, his fiancée, my wife and I enjoyed the simple pleasure of an afternoon in Lisbon including time in an ice cream parlor together. We talked about oceans, our families and life in general. It was a wonderful occasion for Irene and me.
Long before I met him, Senator Lautenberg had made my life better by championing an end to cigarette smoking on commercial airplanes. Considering how much I travel for my work, he's probably saved years of my life and millions of years of other people's lives by doing that.
Based on the trust we built in Portugal, I visited Senator Lautenberg in Washington DC on a number of occasions to ask him to do good things for the oceans. Because I knew that bottom trawling, the world's most destructive fishing method, is a major threat to corals in the deep sea, I asked him to co-sponsor The Deep Sea Coral Protection Act in the Senate, which he did in coordination with a bipartisan group of US Representatives including Jim Greenwood of Pennsylvania and Frank Pallone, Jr. of New Jersey. Their efforts ultimately led to important improvements to the Magnuson-Stevens Fishery Conservation and Management Act of 2006.
Senator Lautenberg didn't do it because I was helpful to his campaign. He did it because he cares about the oceans, and he reminded me again and again that fighting to protect the oceans is the right thing to do.
Senator Lautenberg knows something about heroes. For years, outside his Senate office door, he's displayed thousands of photos of brave men and women who've died fighting for American ideals. I've gone back to see him many times, usually to ask him to help strengthen protections for our oceans. He's always greeted me like a trusted friend and listened.
After many years of public service, Senator Lautenberg, who is 89, will leave office in January 2015. Between now and then, I have no doubt that he'll work to do good things for people and the oceans he so deeply cares about.
I'm proud to consider Senator Frank Lautenberg my friend and ocean hero.
Elliott Norse, Founder and Chief Scientist, Marine Conservation Institute