Happy Earth Day to you (and to Holland America Line and Seabourn)
On this day, the most important holiday of the year (Earth Day), I find myself wondering: How often do people hear about environmental organizations working with companies in ways that are really good for the Earth?  Probably not often enough.
But 3 years ago, the Marine Conservation Institute learned that the leaders of Holland America Line want to do more for the oceans.  Since then, we've had the pleasure of working with this major cruise ship operator.  It's been really good for the oceans, and it's about to get better.
We took the next steps by asking HAL to give us a tour of one of their cruise ships that dock in Seattle.  The ship was amazingly orderly, clean and attractive.  The other Marine Conservation Institute staff member and I were impressed by all the ship did even then to reduce its impact.  Like us, HAL believes that it's good business to protect the Earth.Our first meeting was promising: a mutual friend invited me to meet Dan Grausz, Senior Vice President for Fleet Operations.  Dan and I found that we share a lot: insisting that our organizations "do it right," loving the oceans and treating people in ways that show they really matter. That's as true in the Marine Conservation Institute's science and policy work as it in in HAL's and Seabourn's cruises. They believe, as we do, that we'll succeed by doing what's right for the sea by doing what's best for people. Healthy oceans are good for people.
Showing us their commitment, Holland America Line asked us to help ensure that they serve only sustainable seafood to their guests.  It's been a pleasure to work with their lead people as they increasingly use sustainable seafood.  That reduces their impact and sends good messages to their many thousands of guests.
Again and again, HAL and Seabourn have proven amazingly open to our guidance.  They really "get" the benefit of meeting our strict standards.  I'd love to see more businesses emulating their example.  From all we've seen, the people of these cruise lines not only "talk the talk" they also "walk the walk."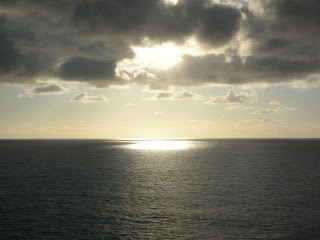 Now we're adding a new focus to our partnership with Holland America Line and Seabourn: "Saving the Ocean's Gems."  Together, we'll encourage private citizens and governments to establish strong marine protected areas where Holland America Line and Seabourn cruise ships go.
If you care about the world's corals, reef fishes and sea turtles, it's essential to save their homes.  We're proud to be working with HAL and Seabourn to increase the number of strong marine protected areas.
Here's hoping that all our friends (people and fishes) benefit from this special cooperation we've developed.
So, in my somewhat-less-than-wonderful voice, today I sing: Happy Earth Day to you!  Happy Earth Day to you!

Elliott Norse, Founder and Chief Scientist, Marine Conservation Institute