The return of an old crustacean biologist to Costa Rica
As I look out at an Anna's hummingbird feeding on the red-flowered Phygelius (Cape fuchsia) in my garden, it is hard to really wrap my mind around the idea that I had just left Costa Rica 24 hours ago.  I had the honor of being invited to give a keynote speech to the Crustacean Society's and Latin American Society for Carcinology's joint Summer meeting.
It was a journey back to my crustacean past, an exoskeleton in my closet (so to speak), and a journey in my shoes for the 180 or so senior scientists and students from 30 countries.  And that's part of what made it a great meeting.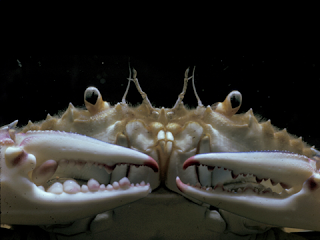 The world has changed since I was a real crustacean geographical ecologist, something that ended abruptly when I became a professional conservationist in 1978.  I've seen the world change rapidly, for worse and for better.  But doing so came at the price of losing touch with my crustacean friends.
Truth in advertising: I devoted nearly 10 years—November 1969 to May 1978—thinking about the ecological geography of what Americans call blue crabs (and which many in Spanish-speaking Latin America call jaiba, and Brazilians call siris), members of the genus Callinectes, in nearshore and coastal waters of the Caribbean Sea and Tropical East Pacific Ocean.  In places including Florida, Mexico, Jamaica, Colombia and Curaçao, I spent nearly 40,000 hours working to understand them.  It was a truly fascinating experience.  My blue crabs taught me a lot about the kind of person I wanted to be, and a lot of what I know about marine ecology.  Blue crabs were my teachers.  They taught me about what I would later call biological diversity.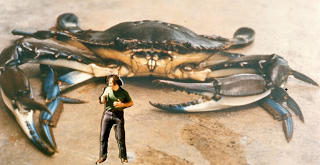 They taught me that different species that survive do so by finding ways to coexist with others that they eat, that eat them, and that compete with them.  I found that we knew little about them because most marine biologists don't like walking around alone in foreign countries, especially in hot, muddy, odorous mangroves.  But I loved the field work, as did a number of the wonderful crustacean biologists I met this week in Costa Rica.  I also learned that huge numbers of blue crabs (and many other species) die in shrimp trawls, so that we can eat shrimp.  I learned that in 1971.  And that, too, shaped my career in conservation.
After a warm welcome from our gracious host (the University of Costa Rica's Ingo Wehrtmann), the leaders of the two scientific societies and distinguished guests from the University of Costa Rica and Costa Rica's Department of Oceans and Waters, I gave a talk called An Old Crustacean Biologist Offers An Idea for Conserving The World's Marine Biodiversity.  I told of my crabby roots, the roots of the idea of biological diversity and of our plan (the Global Ocean Refuge System) to save the Earth's crustaceans (and many other taxa).
The audience was very, very kind.  They asked a half hour of great questions, and would have asked more had our organizer not been so disciplined about time.  I hope our conversation was as enjoyable and thought-provoking for the audience as it was for me.
I remembered a lot about blue crabs as I prepared for the talk.  That felt good.  And here's some other things I learned at the conference:
1)       The fishing continues to get worse.  People are now exploring targeted fisheries for species, including deep-sea shrimps and squat lobsters, and even small species of blue crabs that would never have attracted commercial fishery interest in the past, when edible crustaceans were more abundant.  Whatever humans are doing to the oceans, it's not good for large edible crustaceans any more than it's good for whales, sharks or groupers.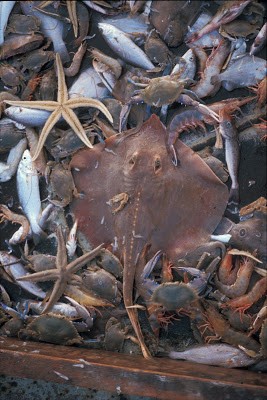 2)       The idea of biological diversity still powers this marine science, as well as powering conservation.  Most of the presentations I saw were about biodiversity patterns and what people are doing to understand them, or how people are affecting marine life.  I can go to my death knowing that Roger McManus and I did something useful, something with antecedents from Norman Myers and Tom Lovejoy to Robert MacArthur and Ed Wilson, back to Charles Darwin himself.  They, and my philosophical mother (Rachel Carson) and father (Aldo Leopold) (neither of whom I met, regrettably) are the shoulders I've stood on.  And it is their legacy I hope my talk passed on to others.
3)      There are some really good people working in laboratories, at computers, on ships, in the sea, in government agencies and in nongovernmental organizations who know a lot about marine life, from the perspectives of shrimps of the deep-sea and estuarine blue crabs in Brazil.  They are an importance resource for governments because they see a lot that's important to ocean governance and management in the course of their studies.
4)      Crustacean biologists are more diverse than they used to be.  It's not mostly Euro-American men any more.  The participants were younger than in days past.  There were far more Latin Americans than Norteamericanos, more East Asians and far more women than when I was an active crustacean biologist.  A lot of the people at the meeting work on crabs, a lot on shrimps, a lot on peracarids (isopods, amphipods and their ilk), some on fairy shrimps.  Far more worked on benthic crustaceans than on planktonic species.  I didn't meet a single copepod person.  But I met a lot of smart, good people, ones who care about conservation.  That gives me hope.  And
5)     The love of life, the love of understanding life, is a beautiful thing.
I hope that our fellow scientists, non-governmental organization staffers, government employees and funders see how much these crustacean biologists know, seek out their insights and take them seriously.  I am deeply pleased to have interacted with my colleagues again.
Elliott Norse, Founder and Chief Scientist, Marine Conservation Institute