Marine Experts Meet to Define Criteria for the Global Ocean Refuge System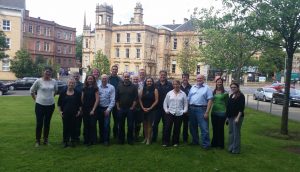 On August 13th Elliott Norse and I hosted the first Global Ocean Refuge System (GLORES) workshop at the University of Glasgow the day before the official start of the 3rd International Marine Conservation Congress (IMCC3).
Establishing rigorous and transparent scientific criteria for ensuring the effectiveness of marine protected areas is a complex and academically challenging endeavor. It is also key to GLORES moving forward.
GLORES addresses one of the biggest problems the marine conservation community is working on – strongly protecting enough of the oceans to successfully protect and recover marine biodiversity so that we can maintain healthy oceans.  It's not about one place, one fishery, or one species.  It's about the oceans as a whole and the continued existence of marine life.
The workshop discussion was focused on the Global Ocean Refuge System and the key criteria that protected areas need to meet (or exceed) to provide effective, long-term biodiversity conservation. Experts added important details on what makes marine protected areas effective for different taxa of marine life, from sedentary corals to wide ranging open ocean sharks, seabirds and whales. Participants also discussed incorporating important social science criteria such as community engagement and governance. While the discussion was very dynamic, the need for effective enforcement and management was a central and reoccurring issue.
The group evaluated our GLORES draft criteria document that integrates data and concepts from the dense body of scientific literature that addresses factors related to the effectiveness of marine protected areas. We devoted a large portion of the discussion to evaluating "NEOLI," an acronym put forth in the recent paper by Graham Edgar and colleagues. This paper showed that 5 important factors related to marine areas led to improved fish populations – no-take (N), effective enforcement (E), old, established for a long enough period of time to see populations recover (O), large size of the area (L), and isolation of the area (I). The degree to which these 5 factors can be replicated in developing criteria for other areas was a substantial part of the conversation at the workshop.
The marine scientists that participated in the workshop provided thoughtful critiques, insights and comments. The group included:
Natalie Ban, University of Victoria, Canada
John Cigliano, Society for Conservation Biology Marine Section President
Leslie Cornick, Alaska Pacific University, USA
Emily Darling, University of North Carolina at Chapel Hill, USA
John Davis, MPA News
Rudolphe Devillers, Memorial University of Newfoundland, Canada
Daniel Dunn, Duke University, USA
Pat Halpin, Duke University, USA
John Hocevar, Greenpeace
David Johns, Portland State University, USA
Jacob Levenson, US Interior Department, Bureau Ocean Energy
Sara Maxwell, Stanford University, USA
Callum Roberts, University of York, UK
George Shillinger, Stanford University and Leatherback Trust, USA
Anna Zivian, Ocean Conservancy
Samantha Andrews (rapporteur)
Shelly Magier (rapporteur)
The participants enthusiastically endorsed GLORES, understood the significance of the challenge and dived into the various details, which are still evolving. With their encouragement, we are seeking input from colleagues from around the world and actively pursuing GLORES partnerships.
Marine Conservation Institute is working on the next revision of the GLORES criteria that will incorporate the feedback received at IMCC. This revised draft will be shared at the Global Ocean Refuge System roundtable we'll be holding at the annual Pew Fellows in Marine Conservation meeting in Sausalito, California in early November.
There are many future steps to developing this important framework and we encourage you to stay in touch with us if you are interested in how GLORES evolves and might be applied to a marine protected area that you work in.