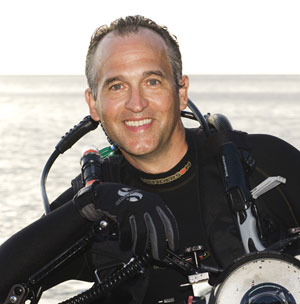 GLORES Partner Spotlight: Brian Skerry, Photographer
Momentum for the Global Ocean Refuge System (GLORES) has been building steadily, with new partners joining every week. This is the first in a series of blogs highlighting the esteemed partners who are helping to make GLORES a reality.
Today we are featuring renowned photographer and photojournalist Brian Skerry, whose gorgeous work is adding beauty to our websites, newsletters and donor outreach. You can find out more about Brian's illustrious career below, but first we want to share his answer to an important question.
Why did you become a Global Ocean Refuge System partner?
"I've been exploring the world's oceans for 37 years and within my own lifetime I have witnessed steep declines in marine abundance and healthy undersea ecosystems. As a photojournalist specializing in stories about the ocean, I have evolved from photographing only celebratory subjects and stories to focusing on problems that need serious attention. Among the issues I have covered are global over-fishing and the value of marine reserves. I became a Global Ocean Refuge System partner because of my strong belief in the need for the creation of far more marine protected areas, something that should be a 'no brainer' for anyone presented with the facts.
"I believe the logical, methodical and cooperative strategy set forth by GLORES is a recipe for success. Protecting substantially larger portions of Earth's oceans will require the non-stop effort of people from many disciplines and I have no illusions that this will be easy or that it will happen overnight. But the steps being taken today by GLORES, I believe, will pay substantial dividends in the time ahead."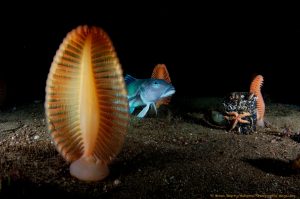 Photo by Brian Skerry (click to enlarge)
More about Brian Skerry
Brian is a photojournalist specializing in marine wildlife and underwater environments. Since 1998 he has been a contract photographer for National Geographic Magazine covering a wide range of subjects and stories. In 2014 he was named a National Geographic Photography Fellow.
An award-winning photographer, Brian is praised worldwide for his aesthetic sense as well as his journalistic drive for relevance. His uniquely-creative images tell stories that not only celebrate the mystery and beauty of the sea, but also help bring attention to the large number of issues that endanger our oceans and its inhabitants.
Brian has also worked on assignment for or had images featured in magazines such as Sports Illustrated, US News and World Report, BBC Wildlife, GEO, Smithsonian, Esquire, Audubon and Men's Journal. He also frequently lectures on photography and conservation issues having presented at venues such as TED Talks, The National Press Club in Washington, DC, Royal Geographical Society in London and the Sydney Opera House in Australia. He is also a frequent guest on programs such as NBC's TODAY Show, CBS's Sunday Morning and ABC's Good Morning America.
To learn more about Brian, please go to his website at www.brianskerry.com or find him on Instagram at @BrianSkerry.
Thank you, Brian, for being a Global Ocean Refuge System partner!