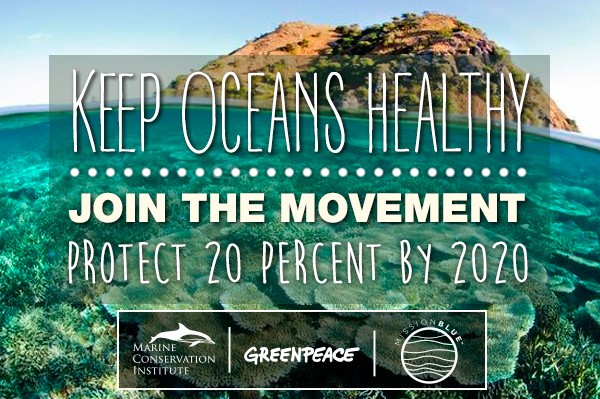 Costco is Taking Action to Redefine the Seafood Retail Industry
Thoughts on the 2020 Vision
Our oceans are in crisis. From overfishing to pollution, our actions have jeopardized the vital benefits we receive from the oceans. Scientists agree we are on a trajectory toward collapse in many of the world's fisheries if we do not act now. How can we restore balance in the seas? Shaping up the seafood retail industry is a great place to start.
Greenpeace, Mission Blue and Marine Conservation Institute have announced the 2020 Vision — a campaign to protect 20 percent of U.S. ocean waters by 2020, doubling the amount of protected waters in the next five years. The campaign's first goal is to restore balance to the Bering Sea, the Alaskan waters hosting America's incredible underwater grand canyons. The campaign is calling on supermarkets that sell seafood to refuse to sell ocean wildlife caught in the canyons.
The Bering Sea is experiencing habitat damage from immense trawl fishing nets. Additionally, many marine mammal and seabird populations are declining, possibly due to competition for food with the massive pollock fishery. Setting aside a percentage of the Bering Sea would not only protect canyon habitat and increase ecosystem resilience, it would help maintain more balanced and healthier marine populations.
The seafood industry and the supermarkets that sell ocean wildlife and profit from our oceans — such as Costco, Target and Albertsons — contribute to the depletion of marine life and destruction of fragile habitats.  That is why we are asking these companies to join our vision for healthy oceans and restore balance to the Bering Sea.
And it looks like the retailers are listening! Costco, the seafood retail mega giant, recently sent a letter to the North Pacific Fishery Management Council urging them to protect the Bering Sea Canyons in response to the 2020 Vison billboard campaign.
Costco wrote "to convey its interest in ensuring that the marine ecosystem of Zhemchug and Pribilof canyons in the Bering Sea are effectively protected from the effects of commercial fishing activities," and urged the Council to move "swiftly to take appropriate measures to protect the habitat of the Bering Sea canyons and insure the long-term sustainability of the vital fisheries of the Bering Sea."
Costco's letter supporting the restoration of the Bering Sea Canyons marked history as the largest retailer ever to engage publically in protecting this important region of the oceans. Thank you Costco for your support and setting a positive example for the rest of the industry!