Healthy Oceans: Capitol Hill Day
150 Ocean Advocates from Blue Vision Summit Meet with 163 House and Senate Offices and Members to Talk About Vital Ocean Issues
The fifth Blue Vision Summit took place this week in Washington, DC, bringing in hundreds of grassroots ocean activists from all across the United States. The Summit began on Monday night with a panel that featured Ralph Nader and Congressman Sam Farr, followed by explorers Fabien Cousteau and Paul Rose, all of whom spoke of the importance of our oceans, citizen advocacy, scientific exploration and conservation.
Dr. Kathy Sullivan, Under Secretary of Commerce for Oceans of the National Oceanic and Atmospheric Administration (NOAA), spoke during the keynote address Tuesday morning, kicking off a day packed with talks on offshore oil, changing coasts, fisheries, marine protected areas, pollution, economics, community organizing and effective storytelling for conservation causes.
As part of this weeklong event, over 150 ocean activists from the Summit descended upon Capitol Hill on Wednesday to speak with members of Congress about important ocean issues. Several members of Congress, including Senator Brian Schatz, Congressmen Raul Grijalva and Jared Huffman, and Congresswoman Suzanne Bonamici spoke to the activists on Wednesday to wish the largest group of ocean activists to ever lobby Congress 'good luck'.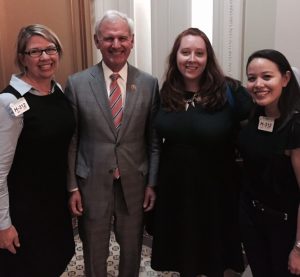 Twenty four states and one territory were represented among the advocates who spoke with 163 different Congressional offices about H.R. 744, the pirate fishing bill, and H.R. 1977, a bill which prohibits offshore drilling and seismic testing off the Eastern seaboard. Marine Conservation Institute staff organized the education and lobby efforts on pirate fishing and led groups lobbying members from Florida, Alabama and Hawai'i. Other ocean issues were also discussed, including ocean acidification, marine plastics, sea level rise and the importance of sustainable fisheries.
The elimination of pirate fishing is one of Marine Conservation Institute's primary policy objectives. Illegal fishing directly threatens the success of marine protected areas worldwide, undermines sustainable fishing practices, and has been linked to human trafficking.
In a very exciting turn of events during one of our Senate meetings, we were thrilled to hear that Senator Murkowski (R-AK) introduced the Senate companion legislation on pirate fishing, co-sponsored by Senator Schatz (D-HI) and Senator Sullivan (R-AK). A bill to strengthen enforcement mechanisms to stop, illegal, unreported and unregulated fishing (S.1334) is another critical step in our campaign to reduce pirate fishing that impacts oceans worldwide and often impacts marine protected areas.
Marine Conservation Institute would like to thank the amazing ocean activists who traveled from across the US and internationally to give a voice to our oceans and make the ocean summit and lobby day a great success! Our team had a terrific time sharing ocean science and activism with representatives of our home states: Maryland, Alabama, Florida and Hawai'i. We are looking forward to Blue Vision Summit 6 and pushing ahead with our efforts to see pirate fishermen banished from our seas.