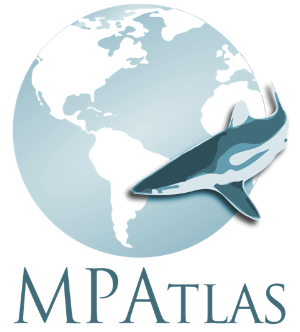 Visualizing Marine Protected Areas
MPAtlas brings global protection to your fingertips
Recent updates to MPAtlas make finding the status of your favorite marine protected areas easy. Marine Protected Areas (MPAs) are simple yet highly effective marine management tools that offer some of the highest marine conservation gains.  MPAtlas, the world's most comprehensive online marine protected area database, is dedicated to providing a user friendly and informative experience for ocean advocates wanting to learn more about MPAs around the world.
With our new map display and color-coded identification system, it only takes a moment to figure out which areas of our ocean are well protected and which still need our help. Progress in recent years has led to 2.12% of our ocean protected in MPAs, and just less than 1% in no-take reserves, but we have a lot of work to do to reach the 20-30% recommended by marine scientists. Follow along the journey to protecting ocean life by clicking the inset map below and virtually explore our seas.
On MPAtlas, the color green now represents the best protected areas of the ocean – those managed as no-take marine reserves. Yellow indicates areas that have at least some sections with no-take protection, generally mixed in with or zoned alongside areas that allow for a moderate level of marine life extraction. Blue areas represent marine protected areas offering moderate protection levels.  Any MPA that is marked by stripes or hash lines is still in the creation process – these MPAs have either been officially proposed or designated, but haven't yet been implemented "on the water."
Interested in learning more about the recently announced Pitcairn Islands Marine Reserve? Visit its MPAtlas page and stay informed as it moves from "designated" to "officially implemented" over the course of 2015. When the map changes the Pitcairn Islands Marine Reserve from green hash marks to solid green, you'll know that the United Kingdom has implemented the world's newest and largest contiguous marine reserve! And as the Global Ocean Refuge System (GLORES) takes its next steps forward, areas such as Pitcairn and the Pacific Remote Islands Marine National Monument will be prime candidates for gold-level status, recognizing our ocean's best protected places.