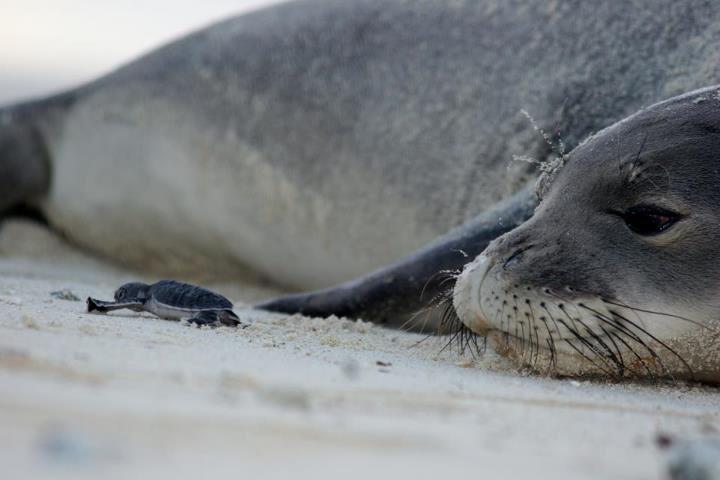 Helping to Save the Endangered Hawaiian Monk Seal
The Hawaiian monk seal is one of the three most endangered seals on earth and is the only marine mammal found entirely within US waters. With a declining population of only 900 to 1,100 individuals, robust and well-funded recovery efforts are vital to the seals' continued existence. Marine Conservation Institute started our work to protect the monk seal in 2007 when we helped establish the Papahānaumokuākea National Marine Monument in the Northwestern Hawaiian Islands to ensure critical habitat protections for the seals and other important species.
Today, we continue to work to ensure a survival for this important species with efforts informed by an increased understanding about the biology, life history and management of the monk seal. In February, we released a comprehensive report on Hawaiian monk seals that concluded the fate of the seal depends primarily on how effectively the National Oceanic and Atmospheric Administration (NOAA) implements the established federal recovery program and how well the U.S. Fish and Wildlife Service manages the critical Northwest Hawaiian Island habitat.
To ensure that our recovery recommendations are heard, we've just concluded a series of high level briefings with leaders in Congressional offices, NOAA and the Fish and Wildlife Service. We urged administration officials and agency managers to take crucial actions now to halt the downward slide of the Hawaiian monk seal population.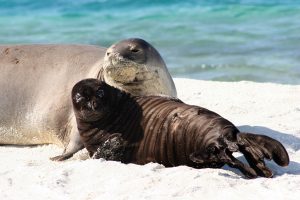 Our report, Enhancing the Future of the Hawaiian Monk Seal: Recommendations for the NOAA Recovery Program, and its clear and robust recommendations have been very persuasive with agencies and members of Congress. In fact, NOAA's most recent Report to Congress on endangered species, Recovering Threatened and Endangered Species: Species in the Spotlight, highlights the plight of Hawaiian monk seals and adopts many of the recommendations for monk seal recovery suggested by Marine Conservation Institute.
Both reports emphasize the need for NOAA to help local communities and residents on the populated, main Hawaiian Islands with monk seal interaction challenges and other concerns about monk seals. Both reports emphasize the need for stronger partnerships between NOAA, the state government and the US Fish and Wildlife service. Finally, the reports acknowledge the need for more time spent in the Northwest Hawaiian Islands protecting seals from shark predation and marine debris entanglement. Marine Conservation Institute also recommends that NOAA produce a brief annual report on monk seal recovery progress and activities so that local citizens and government officials can assess the recovery progress of NOAA and Fish & Wildlife Service.
Our policy staff continues to monitor the progress of Hawaiian monk seal recovery efforts, advocate for sufficient funding for the recovery program and hold officials accountable for tangible accomplishments. Thanks to your support we will continue working to save the Hawaiian monk seal, the most endangered seal in US waters.
Photo Credits: NOAA