Marine Conservation Institute at the 2015 Esri User Conference
Our Staff Scientist's Experience at the "Disneyland for Mapping Geeks"
Last week, I presented the results of our 2015 SeaStates US report, at the 2015 Esri User Conference in San Diego, California.  Marine Conservation Institute and Esri are partners on a wide range of projects and we are grateful that they have supported our conservation work for over a decade.  Mapping conservation priorities and assessing critical habitats is a core part of our work to secure protection for our oceans.
Above Photo: Marine Conservation Institute's kiosk at the conference
Each year Esri (Environmental Systems Research Institute) hosts this conference bringing together users of the company's geographic information system (GIS) software from around the world.  Last year's conference attracted over 16,000 attendees and the usual set up requires 6+ football fields of carpet and over 1200 laptops.  While we use GIS to analyze ocean use, marine habitat and global marine protection, the conference is open to groups that use the same software in the fields of business, defense, education, environment, government, health and human services, natural resources, public safety, transportation, and utilities.  It is truly eye-opening to see the different ways people visualize their work.
In addition to learning about the applications of GIS, through technical workshops we were able to refine techniques, learn more about the extensive tools within the software, and meet other professionals working in similar fields.  Simply put, it's like Disneyland for mapping geeks!
During my time at the conference I met with many of our partners from Esri and World Wide Fund for Nature (WWF), as well as possible future partners such as those who have regional expertise and educators.  I presented on MPAtlas.org and our goal to more accurately represent and track global marine protections. I also discussed our efforts to catalyze further protection for the oceans' most important places through our Global Ocean Refuge System initiative.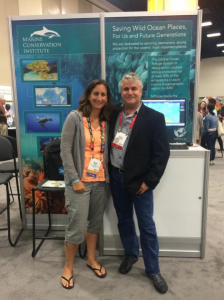 Above Photo: Marine Conservation Institute's Scientist Beth Pike and Esri's Ocean Industry Manager Drew Stephens
At the conference I took advantage of the technical workshops to practice model and online Story Maps building, as well as the application of new and updated analysis tools. I'm looking forward to applying this knowledge to MPAtlas and the other projects we focus on at Marine Conservation Institute.
Credit for Photos: Beth Pike, Conservation Scientist at Marine Conservation Institute