The Power of Papahānaumokuākea
A Marine National Monument that Protects the Known...and Unknown
Nestled in the Northwestern Hawaiian Islands is Papahānaumokuākea Marine National Monument, a nearly 140,000 square mile marine protected area. Within Papahānaumokuākea marine life flourishes and new species are frequently found. An abundance of information can be learned by studying the environment of this remote, protected site, which is an outstanding example of a marine protected area that secures strong protection for marine life that we know of and have yet to discover.
This site was designated a Marine National Monument on June 15, 2006, under the authority of the Antiquities Act. Through educating political figures and various campaign efforts, Marine Conservation Institute was actively involved in Papahānaumokuākea's designation process. At the time of its designation Papahānaumokuākea was the largest marine protected area in the world. We continue to stay involved in this protected area by collaborating with national and Hawaii-based organizations to ensure strict and effective ecosystem-based management. Threats to this area prior to protection included military operations and commercial fishing endeavors; now, access is limited to protect marine wildlife, coral habitats and Hawaiian cultural sites, and use is limited to specific activities such as research, education, Native Hawaiian practices and some recreational trips.
What exactly is Papahānaumokuākea protecting?
Papahānaumokuākea was purposefully created to protect an extraordinary array of cultural sites and isolated marine life, including extensive coral reefs that have been coined "the rainforests of the sea." These coral reefs are home to over 7,000 marine species, with one quarter of those found only in the Hawaiian Islands. The shallow-water environments of Papahānaumokuākea serve as critical habitats and safe havens for scarce species like the threatened green-sea turtle and extremely endangered Hawaiian monk seal. Additionally, these tiny atolls provide a peaceful refuge for four bird species observed nowhere else on the planet, including the world's most endangered duck, the Laysan duck.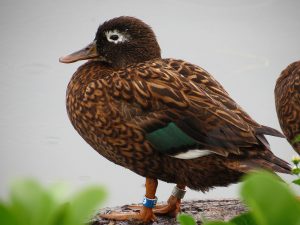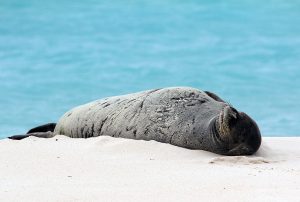 Photo Credit: NOAA/Andy Collins. Top: Laysan duck, Bottom: Hawaiian monk seal
Since its designation Papahānaumokuākea has also protected vital marine species that were either completely unknown at the time of the site's establishment, or believed to inhabit other waters. In 2007, whale researchers from NOAA discovered that endangered humpback whales are utilizing the waters of Papahānaumokuākea during the winter. Before this monumental discovery, it was believed that humpback whales only spent their winters in the main, populated Hawaiian Islands. In early July, 2015, other NOAA scientists discovered the oldest marine organism on Earth in Papahānaumokuākea—a species of black coral, Leiopathes annosa, which can live to be over 4,000 years old. Emphasized through these findings is the exhilarating fact that so much is still to be discovered in the waters of remote protected sites like Papahānaumokuākea. In addition, these significant discoveries bring to light the importance of securing protection for ocean places with unique marine life, before they are significantly damaged.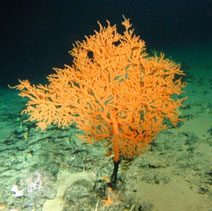 Photo Credit: NOAA. Species of black coral that can live to be over 4,000 years old
Aside from Papahānaumokuākea being a refuge for countless species, the vast protected area also assists in preserving the Native Hawaiian culture. According to Hawaiian beliefs and traditions the Northwestern Hawaiian Islands are sacred, just as all ocean places are. These islands are meant to be untainted and unscathed by destructive human practices and should always be teeming with life instead of barren and sterile. Through the designated protection of Papahānaumokuākea, ancient Hawaiian practices like environmental safeguarding and ancestral connecting are being perpetuated. Cultural activities aimed toward continuing traditional knowledge, protecting the environment and enhancing spiritual connections are considered permissible within the protected region.
What have recent expeditions to Papahānaumokuākea uncovered?
In early July, 2015 the Polynesian voyaging canoe, Hikianalia, traveled to the Northwestern Hawaiian Island of Nihoa in Papahānaumokuākea. The crew assisted in conducting shoreline `opihi (Hawaiian limpet) counts, reef fish surveys and discussions about how to successfully manage Hawaii's marine life. On this voyage it was discovered that Nihoa seems to be the 'Fort Knox' of `opihi regarding genetic diversity. Researchers exploring with the Hikianalia stated that these findings are incredibly significant because `opihi populations in Papahānaumokuākea could be more resilient to serious threats like climate change and ocean acidification. In the protected area there are an average of 100-200 `opihi per square meter, while on the populated Hawaiian Island of O`ahu, there is an average of just one `opihi per square meter.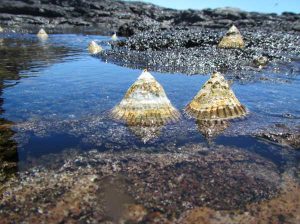 Photo Credit: NOAA/Hoku Johnson. `Opihi (Hawaiian limpet) on Nihoa
Hikianalia's voyage and discoveries provide further evidence that strong marine protected areas are the best tool we have to restore marine biodiversity, promote exciting exploration and secure stable protection for unique marine life. Science supports marine protected areas (MPAs) as one of the simplest and most robust management tools that can offer high return on investment for marine conservation. Currently, MPAs cover just over two percent of the world's oceans, and only about one percent is strongly protected in no-take marine reserves like Papahānaumokuākea. Marine Conservation Institute's ambitious goal is to protect at least 20 percent of the oceans by 2030. We are developing and leading a new, systematic initiative, the Global Ocean Refuge System (pronounced "glories"), to achieve this goal.
Marine Conservation Institute's work with Papahānaumokuākea
Marine Conservation Institute continues working with Papahānaumokuākea by meeting with various state and federal officials to discuss the management and protection of the area, as well as comment on the future action plans for the marine national monument.
Specifically, Marine Conservation Institute is supporting the recovery of the Hawaiian monk seal populations, which have declined dramatically over the last 50 years. Hawaiian monk seals, one of the most endangered seals in the world, take refuge in Papahānaumokuākea where human interactions and distractions are less likely to occur than on the main, populated Hawaiian Islands. Marine Conservation Institute will continue to support Papahānaumokuākea and we are proud to be a part of this protected area's success!
Cover Photo Credit: NOAA. Nihoa Island in Papahānaumokuākea Marine National Monument