A Decade of Creating Large Marine Protected Areas
The Next Decade Requires Faster Pace if we want to Reach International Goals
Across the United States, over 10% of our land has been set aside to protect landscapes and conserve biodiversity. From national parks and monuments, to refuges and wilderness areas, we've created an intricate system that provides recreational opportunities, safeguards watersheds, builds climate resiliency and protects critical habitat for endangered and vulnerable species like the desert tortoise and northern spotted owl.
Whether you're a concerned whale watcher from New England, an enthusiastic angler in the Gulf State of Louisiana or a hiker in the Rocky Mountains, we are all stakeholders in conserving our nation's resources for future generations.  The resources that need protection are on land, and increasingly in our oceans.
Yet the same focus on protection hasn't been applied to our oceans that are in deep trouble worldwide due to overfishing, climate change, industrialization, pollution and habitat destruction. These problems are rapidly getting worse. It is only recently that scientists have realized we must protect important places in the ocean the same way we do on land.  As a result, ocean conservation is far behind land conservation in protecting special places:
Less than a tenth of one percent (0.03% to be exact), or 120 square miles of ocean have been strongly protected as permanent, no-take zones in US federal waters, excluding the areas in the remote Pacific Ocean that have been set aside. See our SeaStates US 2015 report for more details.
Worldwide, just less than 1.0% of the ocean (and the ocean is 71% of our planet's surface) is strongly protected. See our SeaStates G20 report for more details.
The infographic below shows the global response to this void in ocean conservation, highlighting the last decade's efforts to establish strongly protected marine parks. The first large marine park was established in 1975 to protect Australia's Great Barrier Reef but subsequent large-scale efforts didn't occur until the last decade.  In the US, large-scale ocean conservation began in 2006, during the second term of President Bush, when he created a marine national monument in the Northwestern Hawaiian Archipelago known today as the Papahānaumokuākea Marine National Monument. This monument was the largest marine park at the time and is now the second largest protected area in the US encompassing 140,000 square miles. With this monument, President Bush ushered in a decade of marine conservation.
Two years later, the Kiribati government under President Anote Tong announced their precious "gift to humanity," the Phoenix Islands Marine Protected Area or PIPA for short. Designating 157,630 square miles (about the size of California) in the heart of the Pacific was a conservation effort of tremendous vision for a tiny island country that relies on foreign tuna fishing revenues for much of its budget.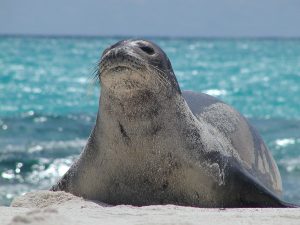 After 2008, the effort to establish large, strongly protected marine parks (also known as reserves) accelerated. In 2010, the United Kingdom dedicated a very large area in the Indian Ocean around the Chagos Islands as a marine reserve. This designation was followed by the Australian government's declaration of the Coral Sea Commonwealth Marine Reserve in 2012, totaling 382,180 square miles. That same year Prime Minister Puna from the Cook Islands in the south Pacific announced his intentions for a marine park—protecting 435,000 square miles. In September 2014, President Obama expanded the Pacific Remote Islands Marine National Monument that President Bush had started by about 400,000 square miles.
What's in store for 2015 and the second decade of marine protected area conservation? Can the momentum be maintained and, more importantly, increased? How can we increase strong ocean protection from the current 1% up to the minimum 20% that most marine scientists recommend to maintain sustainable global fisheries and protect marine biodiversity? Recent protection announcements by the United Kingdom, New Zealand and Chilean governments — as well as other anticipated announcements at the Our Oceans Conference in Chile October 5-6 — may hold the answer to that question. If the current proposed protections become official designations, strong ocean protection will increase from 1% to 1.5%. Progress? Yes- big progress if you are counting percentage change.  Fast enough? Not if we are to meet international goals to achieve 10% coverage for strongly protected areas by 2020 in five years.
That's where Marine Conservation Institute's Global Ocean Refuge System (GLORES) initiative comes in. GLORES is designed to catalyze designations of large, strongly protected areas to help us reach international goals of 10% of oceans protected by 2020 or 20% by 2030. This initiative is transforming the way we think about marine conservation by using a comprehensive science-based strategy for selecting marine protected areas worldwide as well as economic incentives for governments to take bold actions.
Global Ocean Refuges are desperately needed to permanently safeguard vulnerable marine life from extractive activities, like commercial fishing and oil drilling, but also from the impacts associated with climate change. If we are to effectively protect biodiversity in the oceans from climate change at a scale that matters, we must set aside large, carefully located places in the ocean where stress from human activities is minimized.
The team at Marine Conservation Institute is thrilled that ocean conservation will receive the attention it deserves at the Our Oceans Conference next week. We are thankful that Secretary of State Kerry and other world leaders will gather in Chile to work together on enhancing ocean health by committing their nations to creating more marine reserves. We hope the upcoming event will raise the recent wave in ocean conservation to even higher levels.
Assisted by Jaime Sigaran
Cover photo: Secretary of State John Kerry delivers opening remarks at first annual Our Ocean Conference in Washington, DC on June 16th, 2014. State Department photo/ public domain.