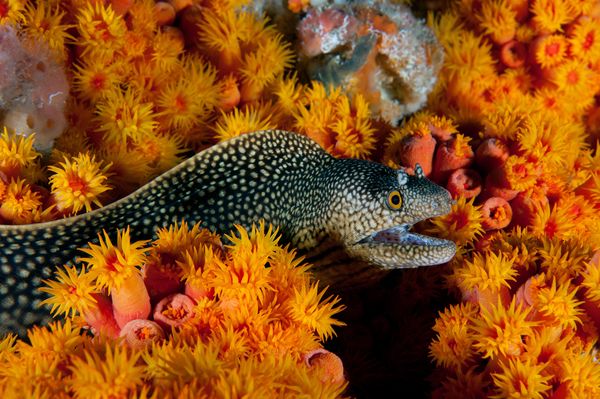 Celebrating Our Ocean 2015 Meeting
1.9 million square kilometers protected in 48 hours!
What do you get when you put 500 ocean leaders, conservationists and stakeholders from over 56 countries in a room together? Progress. Eighty new initiatives on marine conservation and protection- valued at over US$2.1 billion- were announced during the second Our Ocean Conference, held in Valparaiso, Chile earlier this week.
Marine Conservation Institute's MPAtlas.org team members were thrilled to add over 1.9 million sq km of new and proposed protected ocean area to our comprehensive database. Want a quick summary on what has been freshly protected? Here's what we've got for you:
Chile committed to create a 720,000 sq km marine protected area (MPA) around Rapa Nui, also known as Easter Island that will single-handedly increase protection of Chile's waters by 16.4%.
Chile also announced the creation of the Nazca-Desventuradas Marine Park, a 297,000 sq km area around the San Ambrosio and San Felix islands that instantly protected a further 8.2% of Chile's waters.
Chile also also (holy moly they were on fire!) announced its plan to design a 100,000 sq km network of MPAs in the Patagonia fjords over the next five years. When implemented, this new network will protect an additional 2.7% of Chilean ocean.
The United States proposed two new national marine sanctuaries in Maryland and Lake Michigan covering 2,302 sq km.
Panama created two MPAs: Cordillera de Coiba (17,223 sq km) and Banco Volcan (14,931 sq km), increasing Panama's total protected marine area from 3.7 to over 13%.
New Zealand reiterated its intent to create a 620,000 sq km ocean sanctuary in the Kermadec region that will cover 15% of its exclusive economic zone.
Gabon reaffirmed its previous commitment to create over 46,000 sq km of MPAs in 2016 that will cover 23% of its exclusive economic zone.
Cuba and the United States announced negotiations on a collaborative MPA project between Guanahacabibes National Park, the Bank of San Antonio, the Florida Keys, Flower Garden Banks National Marine Sanctuaries and possibly others.
Wowza! That is a lot of progress in 48 hours! While only 2.2% of the world's oceans are currently protected in actively managed MPAs, implementing the more than 20 proposed MPAs would raise global ocean protection to 6%. The Global Ocean Refuge System, an initiative of Marine Conservation Institute, is designed to catalyze strong protection for at least 20% of every marine bioregion for us and future generations. May the momentum of Our Ocean 2015 carry on through the foreseeable future as the global community works together to secure protection for 10% of the ocean by 2020.
You can support MPAtlas.org and its high quality reporting and tracking of marine protected areas by helping us match our challenge grant.  Please consider making a donation and the Waitt Foundation will match your contribution dollar for dollar this fall. Thank you!
Cover Photo: Enric Sala, National Geographic