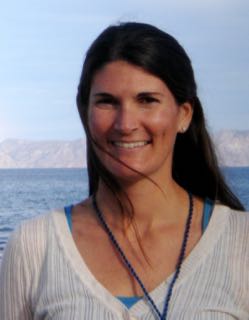 Research Fellow Dr. Sara Maxwell Receives Prestigious Sloan Research Fellowship
Seattle, WA—February 25, 2016— Marine Conservation Institute Research Fellow and Assistant Professor at Old Dominion University, Dr. Sara Maxwell, is a 2016 recipient of the prestigious Sloan Research Fellowship. Awarded annually by the Alfred P. Sloan Foundation since 1955, the fellowship honors early-career scientists and scholars whose achievements identify them as the next generation of scientific leaders. Fellows receive $55,000 to further their research. A full list of this year's Fellows is available at the Sloan Foundation website.
As a marine sustainability ecologist, Dr. Maxwell focuses on policy-relevant science that applies ecological principles to increase sustainability in the ocean, with a focus on highly mobile marine species in both the US and developing nations. In her research, she employs a collaborative, interdisciplinary approach, and actively works to engage managers and stakeholders. Her foundational dissertation research determined broad scale distribution of marine species and – critically – coupled it with a spatially explicit understanding of cumulative human impacts. The results from Dr. Maxwell's study are being used as a key component of the US government's Integrated Ecosystem Assessment process for the California Current, which is the primary framework for implementing ecosystem-based management.
"My approach to research includes a focus on 'management-ready' science that fill important gaps and can be put directly to use by agencies that manage our marine resources," said Maxwell. "My many years with Marine Conservation Institute were critical in developing this skill, and played a major role in shaping who I am as a scientist."
Dr. Maxwell is currently launching several new projects focused on increasing sustainability in marine systems. She is working to expand dynamic ocean management – management of marine systems that is capable of following mobile marine features, resources and users – beyond single sector applications (e.g., fisheries only) to apply this concept to mobile marine protected areas (MPAs). Mobile MPAs may be a particularly important tool for protecting shifting habitats as we face unprecedented changes from the dynamic climatological world we now live in. Dr. Maxwell is also building a research program to aid the Bureau of Ocean Energy Management in implementing ecologically sound wind energy in the mid-Atlantic. Finally, she is continuing research and capacity building in Central Africa by deploying new tag technology to gain a three-dimensional understanding of animal movements and survivorship, and how this changes near human activities. This will be used to determine impacts and improve management for development projects in Gabon.
Dr. Lance Morgan, president of Marine Conservation Institute, has worked with Sara since 2002, "Dr. Maxwell is well-deserving of this award. Her research is academically rigorous and addresses important ocean conservation issues. Her work with Marine Conservation Institute helped provide the science to designate large marine protected areas and she continues working with us as we develop the Global Ocean Refuge System (GLORES). We are very excited that she received this recognition and applaud her success."
Past Sloan Research Fellows have gone on to notable careers and include such intellectual giants as physicists Richard Feynman and Murray Gell-Mann, and game theorist John Nash. Since the beginning of the program in 1955, 43 fellows have received a Nobel Prize in their respective field, 16 have won the Fields Medal in mathematics, 68 have received the National Medal of Science, and 15 have won the John Bates Clark Medal in economics, including every winner since 2007.
About Marine Conservation Institute
Marine Conservation Institute is a team of highly-experienced marine scientists and environmental-policy advocates dedicated to saving ocean life for us and future generations. The organization's goal is to help the world create an urgently-needed worldwide system of strongly protected areas—the Global Ocean Refuge System (GLORES)—a strategic, cost-effective way to ensure future diversity and abundance of marine life. Founded in 1996, Marine Conservation Institute is a US-based nonprofit organization with offices in Seattle, near San Francisco and in Washington DC. For more information, please go to: http://www.marine-conservation.org
# # #
For more information, media and bloggers only, please contact:
Dr. Lance Morgan
Marine Conservation Institute
Email: Lance.Morgan@marine-conservation.org