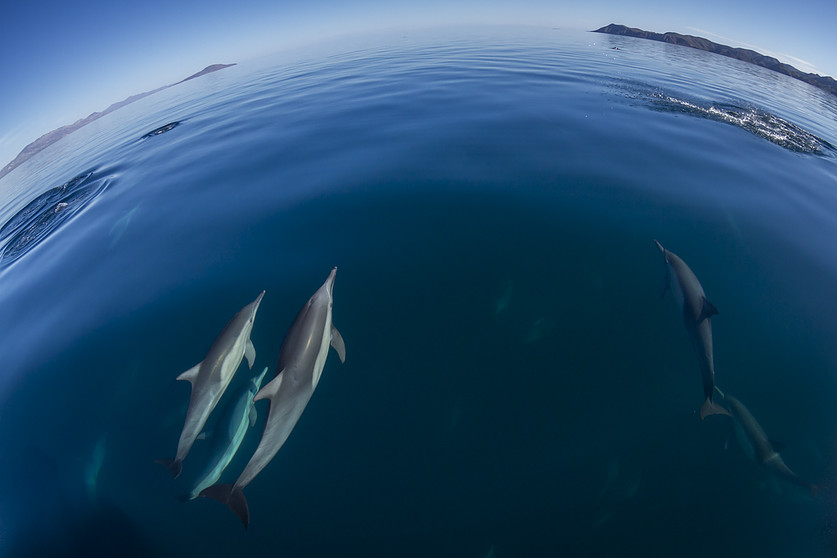 Marine Conservation Institute Urges the Preparatory Committee on Sustainable Use and Conservation of Marine Diversity on the High Seas to Include Fully-Protected Areas as a Key Goal of New Agreement
Washington, DC—March 28, 2016—Marine Conservation Institute, a leader in protecting marine biodiversity, urges international negotiators at a United Nation's committee preparing recommendations for conservation and sustainable use of marine biological diversity on the high seas to establish a robust process to fully-protect key areas.  Our planet is over 70 percent ocean and life on Earth depends on maintaining healthy oceans. The high seas are areas of the ocean beyond any single nation's jurisdiction; almost one half (45 percent) of the entire planet and 60 percent of the oceans are high seas. While many marine issues will be discussed at the meeting, Marine Conservation Institute urges negotiators to work hard at developing a framework that will lead to fully-protecting key areas on the high seas. Recent science indicates that the world should set aside at least 30 percent of each representative bioregion of the ocean, if the oceans are to have any chance of remaining healthy in the face of overfishing, ocean warming, ocean acidification and other stresses.[1]
Dr. Lance Morgan, president of Marine Conservation Institute, said, "We sincerely hope that the UN work starting today leads to conserving the high seas and achieving 30 percent protection or more of those areas by 2030."  He continued, "As a marine scientist, I know there is strong scientific evidence that 30 percent of the ocean needs to be protected from extractive activities of all kinds."
In 2014, the IUCN World Parks Congress meeting in Sydney, Australia attended by thousands of scientists and conservationists made a similar recommendation.[2]  In 2012, the IUCN World Conservation Congress passed a resolution (WCC-2012-res-76-EN) calling on the world's coastal countries to greatly accelerate marine protected area establishment to at least 10 percent of the ocean, one of the Aichi Targets for preserving biological diversity.[3]   Finally, one of the most distinguished and honored biologists in the world, E.O. Wilson, published an opinion piece in the New York Times in which he wrote, "The only [emphasis added] way to save upward of 90 percent of the rest of life is to vastly increase the area of refuges, from their current 15 percent on land and 3 percent of the sea, to half of the land and half of the sea."[4]
Dr. Morgan said, "The ocean is, in many ways, the heart and lungs of the Earth; one of every two breadths we take comes from the ocean. Humans can't live on this planet without the climate moderating influence of the oceans or the food it provides. We can't sustain healthy oceans if we don't act urgently to recover and maintain marine life. Current demands of extracting fish, minerals, oil and gas are unsustainable."
Dr. Morgan finished by saying, "Setting aside 30 percent of the oceans for conservation will maintain the resilience of marine life, and provide a chance for our oceans to adapt as climate change tightens its grip. That's the primary reason Marine Conservation Institute has proposed a Global Ocean Refuge System, or GLORES, to set aside 30 percent of representative marine ecosystems around the world as fully protected."[5]
About Marine Conservation Institute 
Marine Conservation Institute is a team of highly-experienced marine scientists and environmental-policy advocates dedicated to saving ocean life for us and future generations.  The organization is a member of the High Seas Alliance —HSA, a coalition that is involved in the UN Preparatory Committee meetings (For identification purposes only. HSA has no official position on percent of the ocean to be placed in conservation status). Marine Conservation Institute's overarching goal is to help the world create an urgently-needed worldwide system of strongly protected areas—the Global Ocean Refuge System (GLORES)—a strategic, cost-effective way to ensure future diversity and abundance of marine life. For more information, please go to: http://www.marine-conservation.org
For Questions, Please Contact:
Lance Morgan, President, Marine Conservation Institute
email: Lance.Morgan@marine-conservation.org
mobile: 707 2178242
Michael Gravitz, Director of Policy and Legislation, Marine Conservation Institute
email: Michael.Gravitz@marine-conservation.org
office: 202-546-5346
mobile: 301-351-5052
Cover photo: Joe Platko
[1] [1] O'Leary, BC, Winther-Janson, M, Bainbridge, JM, Aitken, J, Hawkins, JP and Roberts, CM. 2016.  "Effective targets for ocean protection", Conservation Letters; Journal of the Society for Conservation Biology, DOI: 10.1111/conl.12247.  Accessed at: http://onlinelibrary.wiley.com/doi/10.1111/conl.12247/abstract
[2]  IUCN World Parks Congress 2014, "A strategy of innovative approaches and recommendations to enhance implementation of marine conservation over the next decade; Recommendations for Change #1". Accessed at:
http://cmsdata.iucn.org/downloads/promise_of_sydney_theme_marine.pdf
[3] World Conservation Congress: Jeju, Republic of Korea, Resolution WCC-2012-Res-76-EN, 2012. Accessed at: https://portals.iucn.org/library/sites/library/files/documents/WCC-5th-005.pdf
[4] E.O. Wilson, "The Global Solution to Extinction", New York Times, Sunday Review section, 7. March 13, 2016.
[5] See www.globaloceanrefuge.org for further details on why 30 percent and how this can be achieved