The Blue Vision Summit
Bringing Professionals and Concerned Citizens Together to Save Our Ocean
Just under two years ago I wrote a blog on the 5th Biennial Blue Vision Summit. At the time, I was the Ocean Policy Fellow for Marine Conservation Institute. Two years later I am the Associate Director of Blue Frontier and planning the 6th Blue Vision Summit, a multi-day gathering of U.S. senators, marine professionals, students and concerned citizens on Capitol Hill.
This year, during the 6th Biennial Blue Vision Summit, there will be three days of events. The main themes are offshore drilling, ending plastic pollution and coastal resiliency. Day one will be full of panels, plenaries, networking and an evening of "theme" dinners. Day two will be a Healthy Ocean Hill Day where Summit participants visit Congressional offices. This year we have plans to make visits to Congressional offices in over 25 states (all of the coastal states and some inland states as well). Come join our teams of citizen lobbyists, get trained up on ocean issues and how to lobby, then go do it! And finally, day three will consist of a morning plenary on Ocean Solutions that will lead into the 10th Annual Peter Benchley Ocean Awards.
The one thing that really stuck with me from two years ago is how the Summit is predicated on practical change based on direct action. Never before had I been so inspired and able to take immediate, direct action. People often hear about things they can do to help save the environment, such as reducing consumption of single-use plastics, recycle, etc. And those are all very important things to do, but this was different. This was direct action. We were given educational materials and descended on The Hill to express our grievances and fight for two key bills that were in Congress at the time. The day before Healthy Ocean Hill day two years ago there were about 25 co-signers of H.R. 774 (a bill to end illegal fishing worldwide) and a few days after there were over 40 signatories. After walking into my hometown Congressman's office (Mo Brooks; R, AL) and asking him to sign onto H.R. 774 – which he did – I am convinced that one person truly can make a difference.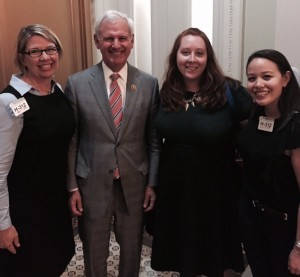 I invite you to join us on Tuesday, May 9th for the Blue Vision Summit, Wednesday May 10th for Healthy Ocean Hill Day and Thursday May 11th for the morning symposium! Marine Conservation Institute will be there along with The Ocean Foundation, Colorado Ocean Coalition, Oceana, Surfrider Foundation, NRDC, Ocean Champions, Lonely Whale Foundation, 5 Gyres, Ocean Conservancy and many others! Registration is open and we are looking for participants, sponsors and even volunteers.
If you are interested in attending the Summit you can learn more about our agenda, lodging and registration here.
If you are interested in sponsoring the Summit, here is a list of current sponsors as well as our sponsorship information.
If you still have questions, feel free to email me at: victoria@bluefront.org