GLORES Partner Spotlight: Dr. Dawn Wright and Esri
We are excited to shine the Global Ocean Refuge System (GLORES) Partner Spotlight on Dr. Dawn Wright, Chief Scientist of the Environmental Systems Research Institute (Esri), a world-leading geographic information system (GIS) software. Dawn has authored or co-authored more than 150 articles and 10 books on marine GIS, hydrothermal activity and tectonics of mid-ocean ridges, and marine data modeling. She has participated in over 20 oceanographic research expeditions worldwide, including 10 legs of the Ocean Drilling Program, three dives in the deep submergence vehicle Alvin and two dives in Pisces V. Dawn's fieldwork has taken her to some of the most geologically active regions of the planet, including the East Pacific Rise, the Mid-Atlantic Ridge, the Juan de Fuca Ridge, the Tonga Trench and volcanoes under the Japan Sea and the Indian Ocean. Marine Conservation Institute is absolutely thrilled to receive the support of Dr. Wright and Esri for our largest initiative, GLORES!
We asked Dawn and Esri why they became a GLORES Partner:
"We were greatly inspired by the vision of GLORES to serve as an accelerator to drive STRONG protection. And given that we are a geographic information systems company, we are also excited by the aim of GLORES to provide a decidedly geographical solution for an existential threat to the oceans and ultimately to the livability of the entire planet. We love the emphasis on location, location, location (!) in developing a diversified portfolio of strongly protected, well-enforced marine protected areas, well connected to other area-based conservation measures, and thus integrated into wider and healthier seascapes and landscapes. We see our involvement in GLORES as an integral part of our recently established Ocean GIS initiative. In 2012 we launched this initiative across the entire Esri organization to enhance our capabilities to support GIS in both coastal and open ocean applications. Esri is particularly focused on a greater engagement with the ocean science community, as complex ocean science questions and data are increasingly used to inform the responsible use and governance of the oceans, as well as effective management and conservation. To support a better overall understanding of our oceans, Esri aims to improve and expand its products, tools, services, partnerships, and connections with the broader ocean community.
As such, Esri was thrilled to be able to provide the conference facilities at our headquarters in Redlands, CA for the Global Marine Protected Areas Partner Summit (Partnering for Healthy Oceans) in November of 2015. And at this meeting, we were also happy to participate fully including providing the first preview of the global marine ecological units (EMU) map as commissioned by the Group on Earth Observations and as recently featured in Nature. We very much want this fully 3D map to be of use and value to GLORES on a number of fronts, including for design of additional MPAs and monitoring of existing ones to ensure more effective function.
We are also happy to continue our partnership with Marine Conservation Institute on MPAtlas.org."
More about Dr. Dawn Wright:
As chief scientist of Esri, Dawn works directly with the CEO on strengthening the scientific foundation for Esri software and services, while also representing Esri to the national/international scientific community. She maintains an affiliated faculty appointment within the College of Earth, Ocean, and Atmospheric Sciences at Oregon State. Dawn's research interests include geographic information science; ocean informatics and cyberinfrastructure; benthic terrain and habitat characterization; and the processing and interpretation of high-resolution bathymetry, video, and underwater photographic images.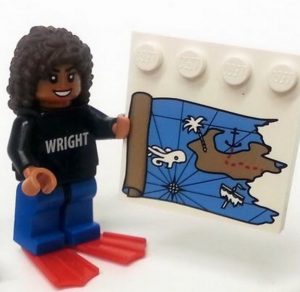 Dawn's recent advisory board service includes the Science Advisory Boards of NOAA and the EPA, the Science Advisory Council of Conservation International, the Blue Ribbon Panel of the Global Partnership for Oceans, and many journal editorial boards. She served on the U.S. National Academy of Sciences Ocean Studies Board from 2007-2013. Dawn was the recipient of an NSF Early Career Award in 1995, was awarded a Fulbright to Ireland in 2004, the OSU Milton Harris Award for Excellence in Basic Research in 2005 and elected a Fellow National to the Explorers Club in 2013. In 2007 the Council for Advancement and Support of Education (CASE) and the Carnegie Foundation for the Advancement of Teaching named her Oregon Professor of the Year. She is also a Fellow of the AAAS and the Geological Society of America, as well as a fellow of Stanford University's Leopold Leadership Program.
Other interests include road cycling, mountain biking, apricot-green tea gummy bears, 18th-century pirates, her dog Sally and SpongeBob Squarepants. Follow her on Twitter @deepseadawn.