The evaluations for the inaugural Global Ocean Refuge award nominees are live
YOU can participate in the comment period!
The best way to maintain our oceans' biological diversity, abundance and resilience is by protecting marine life and their ecosystems through strong and effective marine protected areas. Marine scientists agree that 30% of the ocean needs to be strongly protected. Currently, less than 1% of the ocean is safeguarded in this manner. Many of the most important and vulnerable marine ecosystems are not yet protected, and others are vastly under protected and underrepresented.
Marine Conservation Institute, recognizing the need for more and better ocean protection, is leading a major initiative called the Global Ocean Refuge System, or GLORES, to protect 30% of the ocean by 2030. GLORES is an innovative strategy to incentivize decision makers to establish protected areas that safeguard marine life and promote opportunities for sustainable tourism.
GLORES will set the standard for strongly protected marine areas and incentivize their establishment by publicly recognizing the governments and communities that make significant contributions to protecting marine wildlife with strong protections. Sites are nominated and undergo an evaluation to determine if they meet GLORES science-based standards. The award provides prestige, which draws tourists and investors. The recognition can be used to leverage funding for Global Ocean Refuges. GLORES also provides a benchmark that both private and governmental funders can use for their investments.
How does GLORES work?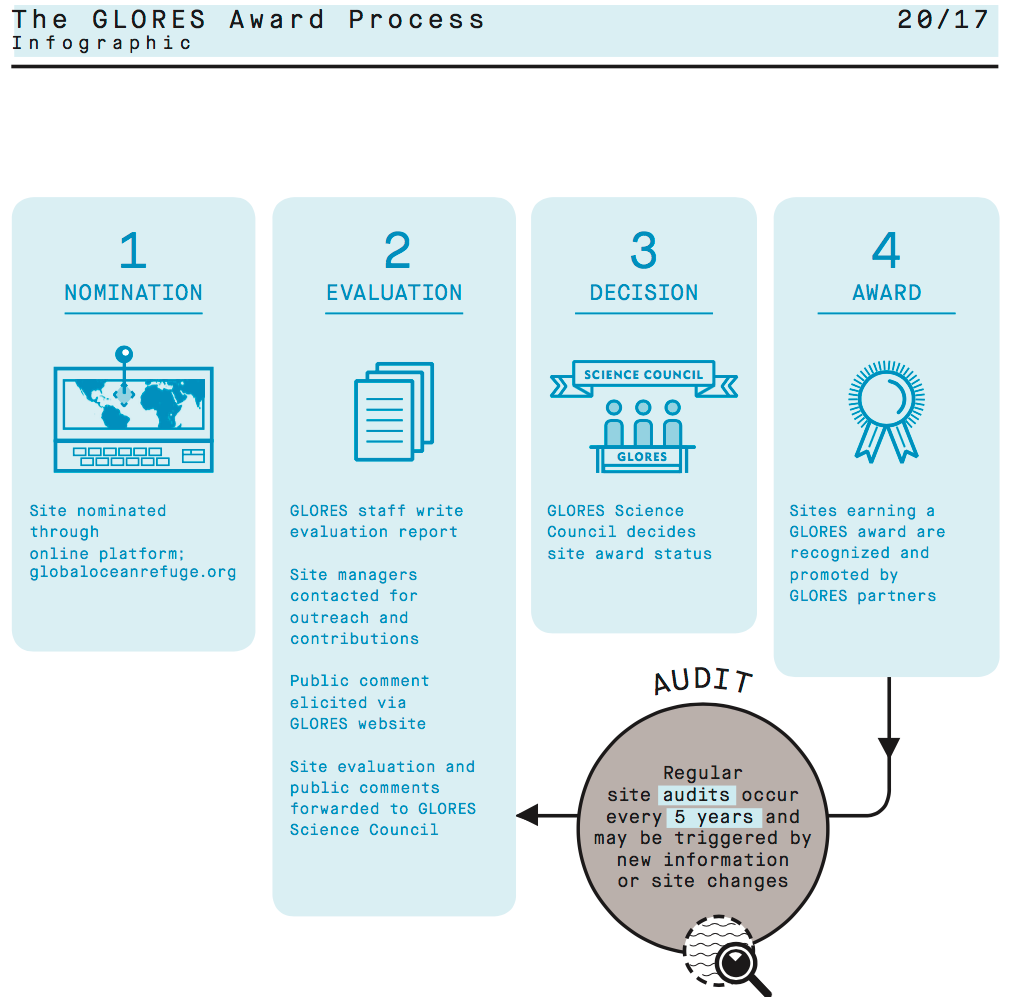 Becoming a Global Ocean Refuge is a four-step process. First, sites are nominated through an online nomination platform that elicits information and documentation needed to evaluate the site. Second, eligible protected areas are evaluated on both biodiversity value of the site and the effectiveness of current management practices and community compliance to regulations. The evaluation reports are published online and a public comment period is opened. Third, the evaluation report and all public comments are forwarded to GLORES Science Council members who determine the nominee's Global Ocean Refuge award status.
The 2017 Global Ocean Refuge Nominees!
The 2017 Global Ocean Refuge nominees are:
These sites were selected for their ability to fulfill the eligibility criteria discussed above and represent a diverse set of ecosystems with strong protections in place. We are preparing to announce the first Global Ocean Refuge awards at the 4th International Marine Protected Area Congress in La Sereña, Chile this September.
Want to be a part of ocean conservation history? The evaluations of the inaugural Global Ocean Refuge Award nominees are open for public comment period here. Add your voice today!
Become a GLORES Partner
GLORES will only be successful through collaboration. We celebrate, support and acknowledge the hard work and commitment of communities, agencies and governments for protecting oceans and achieving Global Ocean Refuge status. We invite you to play a role in this effort. By becoming a GLORES Partner, you can help by nominating sites, reviewing and commenting on nominations, and promoting Global Ocean Refuges.