GLORES Partner Spotlight: Dr. David Hyrenbach
This week, we are excited to shine the Global Ocean Refuge System (GLORES) Partner Spotlight on Dr. David Hyrenbach, a member of our distinguished GLORES Science Council!
David Hyrenbach is an associate professor of oceanography at Hawai'i Pacific University. An expert in the ecology and conservation of marine birds, Dr. Hyrenbach has extensive experience with marine protected area science and policy, both in the United States and abroad. In 2000, as a graduate student, he co-authored a seminal paper on the design of pelagic protected areas, with his advisor Paul Dayton. In 2007, he was awarded a Pew Fellowship in Marine Conservation, to help delineate important areas for foraging seabirds in the Western Mediterranean, and in 2010, he was appointed to the U.S. Federal Advisory Committee for Marine Protected Areas, for a four-year term. He has also contributed to the scientific assessment of pelagic protected areas in the Southern Ocean for the International Whaling Commission, and has co-authored several reviews of marine protected areas and geo-spatial management approaches for pelagic predators.
We asked Dr. Hyrenbach why he joined the GLORES Science Council:
"I was pleased to join the GLORES Science Council to help identify the best marine protected areas in the world. Establishing rigorous science-based criteria for evaluating protected area designs and management plans is essential to ensure ocean protection worldwide is effective and long-lasting."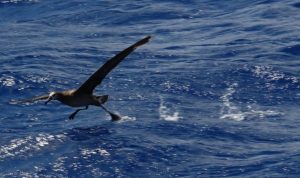 Check out Dr. Hyrenbach's profile for more information on his work. We announced our first Global Ocean Refuges at IMPAC4 and you can learn about these exemplary marine protected areas on the GLORES website.