GLORES Partner Spotlight: Turtle Island Restoration Network
We are very excited to shine this week's Global Ocean Refuge System (GLORES) Partner Spotlight on Turtle Island Restoration Network!
Turtle Island Restoration Network (TIRN) works to mobilize people in local communities around the world to protect marine wildlife and the oceans and inland watersheds that sustain them. The TIRN team accomplishes their mission through grassroots empowerment, consumer action, strategic litigation, hands-on restoration, environmental education, and by promoting sustainable local, national and international marine policies.
TIRN does hands-on restoration of critical habitat like the redwood forested creek banks of California that are home to endangered salmon. They are gathering scientific data from the full-of-marine-life waters of Cocos Island in the tropical Pacific Ocean to support the creation of a protected swimway to help sea turtles and sharks continue to thrive. They advocate ending wasteful and outdated commercial fishing methods, like drift gillnets, that injure and kill more ocean life than they put on the table.
TIRN believes that people have a responsibility to advocate on behalf of sea turtles, salmon and other marine species that are gravely threatened by commercial, cultural and individual human practices around the world. They foresee a time when a critical-mass of people in communities all over the world share a common understanding of the intrinsic value of biodiversity and a permanent commitment to act as wise, willing and able stewards of life in the earth's oceans and on its lands.
We asked Turtle Island Restoration Network why they became a GLORES Partner: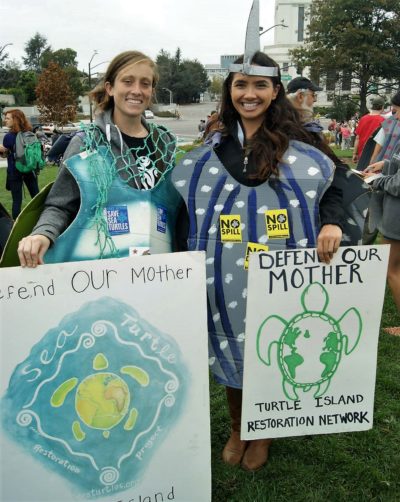 "We are supporters of the Global Ocean Refuge System because, right now, too little of the ocean is being protected. The ocean is vital to life as we know it, but marine life is being threatened by a variety of human activities. We urgently need to protect marine ecosystems. Scientists recommend protecting at least 30% of the ocean. The GLORES initiative encourages the creation of marine protected areas with strong protections in place. With more marine protected areas in place, we can lessen the threats from human activities and move closer to successfully sharing the planet with wildlife."
Support TIRN's Campaign to Ban Death Nets!
Feature Photo: TIRN collects scientific data in the Cocos Islands to support marine ecosystem protection. Photo: Felipe Chacon / underseahunter.com